Suella Braverman has been rebuked by a senior Tory campaigner on homelessness after the home secretary provoked outrage by describing rough sleeping as a "lifestyle choice."
Bob Blackman MP, head of the all-party parliamentary group for ending homelessness, said Braverman was wrong to discuss a complex and serious issue in such terms and advised her to use "wiser" language.
Braverman posted on X, formerly Twitter, that she plans to crack down on the pitching of tents in urban areas, which she largely blamed on individuals "from abroad".
The home secretary wrote: "We cannot allow our streets to be taken over by rows of tents occupied by people, many of them from abroad, living on the streets as a lifestyle choice."
Blackman, who set up the parliamentary group in 2016, told the Observer: "Homelessness for people from the UK is not a lifestyle choice, far from it. Every case is unique. People would have ended relationships or fallen out with parents – which is why young people end on the streets. They may have made the wrong choices in life or had an accident and be unable to work. I obviously would never use [Braverman's] words. She should use wiser words."
The home secretary's intervention will further underline her standing as a divisive figure. Yesterday, campaigners outside the Home Office called on Braverman to stop "stirring up hatred and fear". Weyman Bennett, co-convenor of Stand Up To Racism, said: "We're here because there's a racist running the Home Office. [Braverman] is a bigot."
Just days earlier, Braverman had courted controversy by calling pro-Palestinian demonstrations "hate marches" and claiming that protesters were planning to "desecrate Armistice Day" next weekend.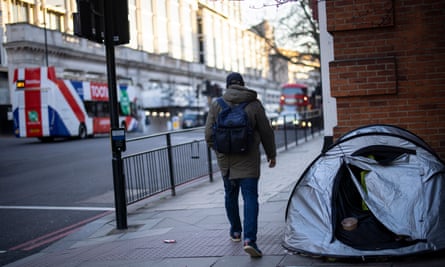 The Metropolitan police tried to calm tensions by pointing out that pro-Palestinian demonstrators have no plans to march on Remembrance Sunday, or to march near the Cenotaph or Whitehall the day before.
Several groups have spoken out against the home secretary's attitude this weekend, especially since sources told the Financial Times that Braverman has pushed for a new civil offence that would see charities fined for providing tents to homeless people to be included in the king's speech this week.
Jen Clark, economic and social rights lead at Amnesty, said: "Of course, the government likes to peddle the idea of 'intentional homelessness' – it's a very convenient cop-out, but in truth the spiralling housing crisis is a result of systematic government failures.
"We need to see housing recognised as a basic human right and protected in law so that we can hold the government to account. This is a useful distraction from any discussion about how far they are from delivering on their 2019 manifesto commitment to end rough sleeping."
Homelessness charity Shelter said Braverman's comments were a sign of failed government policy: "No one should be punished for being homeless. Criminalising people for sleeping in tents, and making it an offence for charities to help them, is unacceptable."
Labour's deputy leader, Angela Rayner, said that after 13 years in power the Tories were "blaming homeless people rather than themselves".
The Liberal Democrats said it was "grim" that Braverman was attempting to criminalise charities for simply "trying to keep people warm and dry".
Blackman said those involved in the debate should remember the "everyone in" policy introduced during the first lockdown in England, which saw about 15,000 homeless people given emergency accommodation in hotels in March and April 2020. The scheme is thought to have saved the lives of hundreds of rough sleepers.
He said: "The 'everyone in' programme demonstrated that if you have got the political will to take people off the streets and provide them with somewhere to stay, you can achieve it."